The LORD is my strength and my song; He has become my salvation.
He is my God, and I will praise Him,
my father's God, and I will exalt Him.

- Exodus 15:2
"In meditation we find the strength
in ourselves and in others."
St Charles Borromeo
ORDAINED to the Holy Priesthood of Jesus Christ TODAY
Friday, June 20, 2014
Oh, day of
Love
Divine, all loves excelling!
An Old German saying:
It is worth wearing out a pair of shoes to walk
to receive a priest's First Blessing!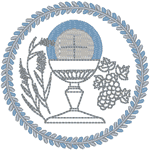 Rev Mr
Timothy Lange
~ Diocese of Duluth (Minnesota)
Rev Mr
Blake Rozier
~ Diocese of Duluth
Cathedral of Our Lady of the Rosary ~ 4 PM Mass
Rev Mr
Bob Rodgers
~ Diocese of Cheyenne(Wyoming)
Rev Mr
Brian Hess
~ Diocese of Cheyenne
Cathedral of St Mary ~ 2 PM Mass
Let us hold them in prayer and offer thanksgiving for their 'YES'!
"O wonderful dignity of the priests,"

cries out St Augustine

;
"in their hands, as in the womb of the Blessed Virgin,
the Son of God becomes incarnate."