"Today I have received Jesus, and now I possess Him entirely
in my miserable soul...."

-
St Gemma Galgani
An excerpt from a letter of St Gemma, happily describing her First Communion Day
to her Spiritual Director, Fr Gernamus Ruoppolo, C.P:


"I prepared myself, with much work on the part of those good nuns,
for my general Confession. I made it in three sessions to Msgr. Volpi.
I finished it on Saturday, the vigil of that happy day.
Finally, Sunday morning came. I arose early and ran to Jesus for the first time.
At last my desires were realized. I understood for the first time
the promise of Jesus: 'He who eats of Me shall live of My life.'


Dear Father, I do not know how to tell what passed between Jesus
and me
at that moment. Jesus made Himself felt very strongly by more poor soul.
I understood at that moment that the delights of heaven
are not like those of the earth. I felt myself overcome by the
desire to render that union with my God continual. I felt weary
of the
world more and more, and more disposed to recollection.
It was that same morning that Jesus gave me
the
great desire to be a religious."
St Gemma Galgani
Patron Saint of Children and First Communion
St Gemma received her First Holy Communion (age 9) on June 17, 1887,
which was the Solemnity of the Sacred Heart of Jesus that year.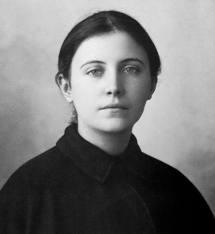 Do you remember/can you figure out
your First Holy Communion date?
Do HEARTILY celebrate it!